Online shopping will never be the same again. The 2020 pandemic forever changed the way that many companies do business. This is clear by a sharp increase in online shopping during COVID-19 that has yet to slow down.
According to a recent study conducted by the National Retail Federation, 70% of shoppers say BOPIS improves their overall shopping experience, which was already a shopping method that was on the rise even before the pandemic.
But once the pandemic hit, the convenience of the buy online, pickup in-store model became too great to ignore.  Most importantly? Customers could safely order from the comfort of their own homes and pick up orders with little-to-no contact. Customers fully embraced click and collect for retail. And while some changes in consumer behavior due to pandemic restrictions have reverted, buy online pickup in-store isn't one of them.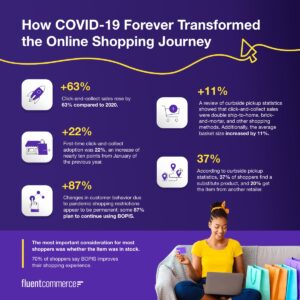 Click and Collect statistics and answers
For some compelling click and collect statistics, we've taken a deep dive into Numerator's case study COVID-19 Click & Collect: Who's Clicking and Who's Sticking. This study shares how shoppers adopted online shopping during COVID-19 and how they might behave in the coming years.
How much Did Click and Collect sales increase during the pandemic?
Click-and-collect sales rose by 63% compared to 2020.
What was the first-time adoption rate of Click and Collect?
First-time click and collect adoption was 22%. This was an increase of almost ten points from January of the previous year.
What was the deciding factor in whether a shopper would place a BOPIS Order?
The most important consideration for most shoppers was whether the item was in stock.
What method generated the highest amount of sales during COVID-19?
Curbside pickup statistics showed that click and collect sales were double to other options. This includes ship-to-home. Additionally, the average basket size increased by 11%.
What are the most popular items to Buy Online, Pickup In-Store Same Day?
During the pandemic, many used BOPIS for basic item restocks, like canned and frozen foods.
What is the risk of not having products in stock?
Lost sales. Unhappy customers. According to curbside pickup statistics, 37% of shoppers find a substitute product. 20% get the item from another retailer.
What percentage of customers will continue to use Click and Collect for retail?
Changes in customer behavior due to pandemic shopping restrictions appear to be permanent. Some 87% plan to continue using BOPIS.
Click and Collect Software for retail helped brands adapt quickly
Circumstances around store closures varied greatly by region, country, and city.
JD Sports was one company that responded quickly. Using Fluent Order Management, they were able to turn click and collect on or off for individual stores in minutes. This flexibility allowed them to respond to both customer demands and an evolving commercial environment at an unprecedented speed.
What's on the horizon for retailers?
The pandemic forever changed the way many companies do business.. But to make sure your customers have the best experience, you should:
Ensure  in-stock items are actually in stock

Inform customers of out-of-stock items before they buy

Optimize order fulfillment to reduce pick-up delays

Streamline item pickup to reduce customer frustration

Use

click and collect software for retail

to enable automation and increase customer satisfaction

Expand click and collect inventory. Why? 34% of shoppers said lack of selection would prevent them from using click and collect frequently

Use in-store pickup as an opportunity to extend the customer's visit
Rapid adjustment means better business
Fluent Order Management offers the solution you need to manage click and collect and other in-demand shopping methods. Schedule a free demo to learn more.