Customer expectations are at an all-time high. Driven by the seamless experiences of B2C ecommerce leaders, your B2B customers now expect more. A substandard experience is simply not going to cut it any longer. Your customers want detailed status updates. On-time delivery. But this can pose unique challenges for distributors. Why? Distribution orders often have more moving parts. And the B2C centric commerce platforms weren't designed to handle this B2B complexity. What are the top challenges and how can you solve them?
1) Order status updates
Distributors often have complex fulfillment processes. Order status updates come from specific events and from additional systems. On top of this, there may be manual steps or activities that occur in other systems during the fulfillment process. This can include:
Fraud or credit checks
Pricing finalization
Compliance or regulatory checks
Installation scheduling
Exchange or rebate considerations
With all these different systems and processes, how can you ensure that the correct order status is shared with the customer? A distributed order management system—one that allows you to create rules based on your specific processes. Trigger events in third party systems. And create workflows that fit your needs.
2) Orders sourced from multiple locations
When an order is placed, can you ship it from a single location? In some instances it may make more sense to ship from multiple locations where product is in stock rather than transfer stock to consolidate a shipment.
Or you may have certain products that can only be shipped from specific locations. You'll need to split the order—which can pose a challenge for some systems. And if you do successfully split the order, can you do so multiple times? And still track each shipment separately, yet provide your customers with a single view of the order? And how about the status of each shipment? If not, it's time for a distributed order management system.
3) Accurate inventory availability—now and in the future
B2C systems are designed to track 'stock on hand'—what's available right now. But when it comes to stock availability, distribution is different. You have longer lead times, and a system that tracks stock on hand simply won't work.
You need a way to understand not just what's available today, but when new stock will become available in the future. And you need the ability to allocate that future inventory to an order. With the right distributed order management system, you can both track and promise against inbound inventory.
Benefits of a flexible Order Management System:
Create the order statuses that fit your business
Update status based on triggers from other systems
Trigger events and processes in other systems
Get full control over every step in the ecommerce order fulfillment process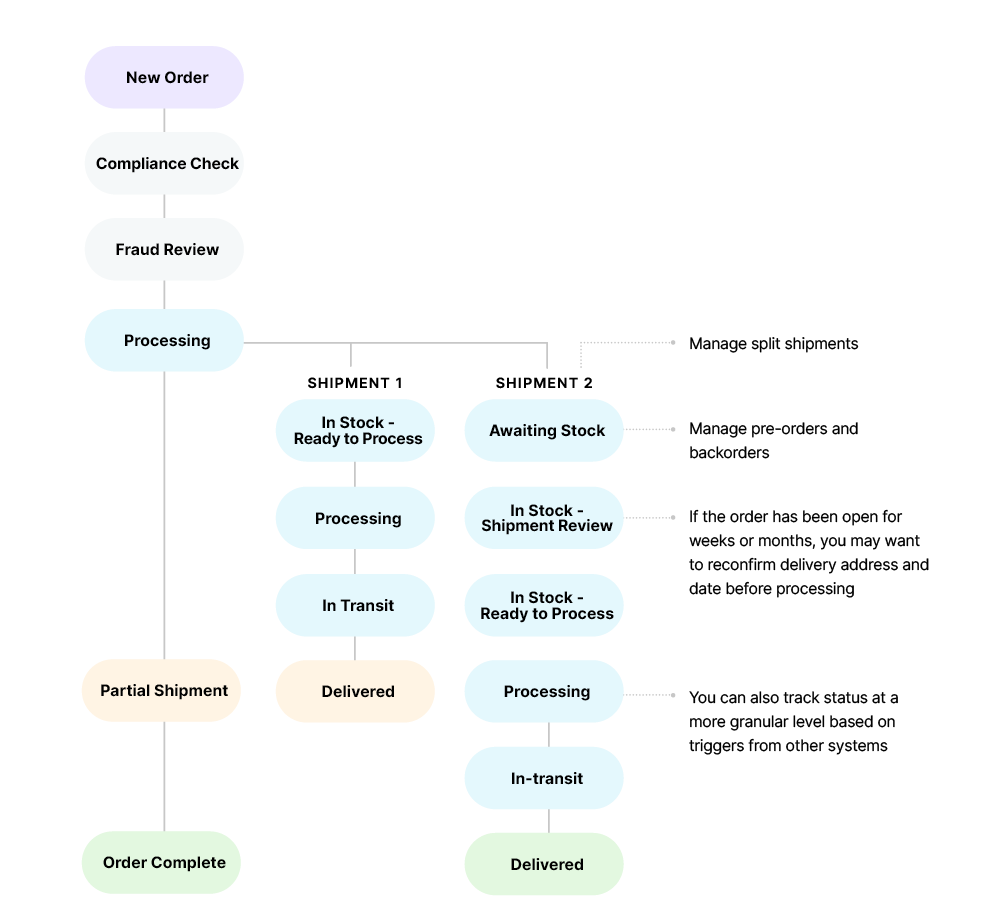 Summary
Commerce and ERP systems don't always work for B2B use cases. When you come across these challenges and your current solution is no longer meeting your needs, it's time for a distributed order management system.
Fluent Order Management allows you to create rules and workflows that fit your business. Split orders multiple times—and show the customer a single view of the order. Accurately report on stock availability and take pre-orders on future inventory. And so much more.
With the right order management system, you'll have full control over every step in the ecommece order fulfillment process—not only meeting your customers' expectations, but exceeding them.
For more information on how Fluent Order Management can improve your distribution operations, schedule a demo today.