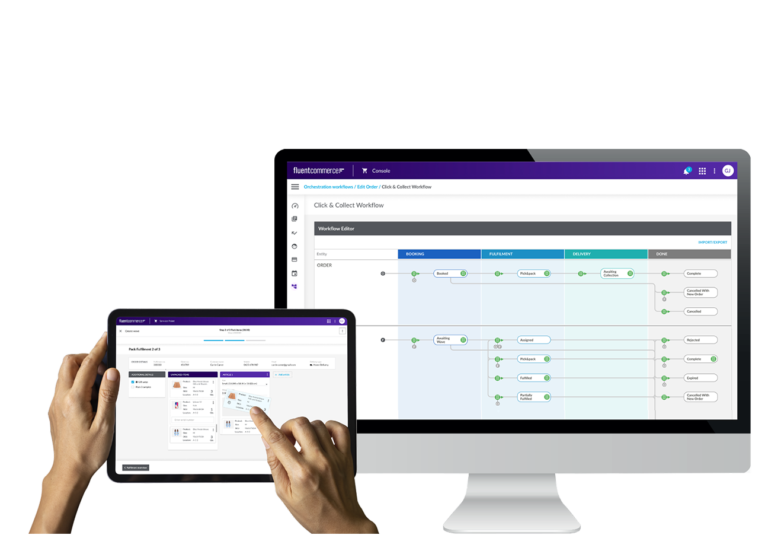 Fluent Order Management vs Salesforce Order Management
Accelerate Your Order Management with Fluent Commerce
The best Order Management system for Salesforce isn't the one Salesforce built.
If your needs are basic, it's probably fine. But if you are looking to optimize across any sort of complexity, Fluent Order Management is the clear choice.
Truly inventory aware

Get an accurate view of near real-time inventory across all systems and locations

Control what is Available to Promise in each channel, market or region

Process inventory updates at scale

Show accurate inventory before the buy button to reduce overselling and underselling

As easy to set up as Salesforce OMS

Fluent and Salesforce OMS both use a cartridge to integrate with Salesforce Commerce Cloud

Cartridge for with Salesforce Commerce Cloud (SFCC) integrates both inventory and order data

See and edit order details in Salesforce Service Cloud (SFSC)

A much more powerful platform to meet your needs and customer demands

Fulfill from anywhere — DCs, stores, 3PLs, drop ship vendors, and other third party partners

Highly flexible software that adapts to your business, not the other way around

Low-code configuration supports both simple configuration and complex adaptation

Solely focused on your order management needs

100% of R&D goes to order management

Built for a best-in-class approach to future-proof your commerce stack
True trailblazers find their way to the best solution. For your order management needs, it's likely Fluent.
This site is registered on
wpml.org
as a development site.