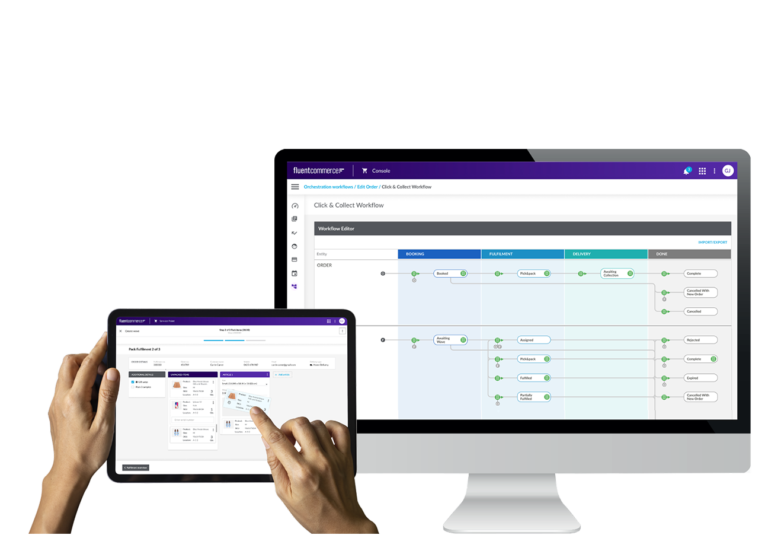 Fluent Order Management vs Manhattan Active Omni
Accelerate Your Order Management with Fluent Commerce
Manhattan's transitioning to the cloud. We've been here since Day 1. Spend less and get more faster when you choose a commerce stack that includes Fluent Order Management.
Truly inventory aware

Get an accurate view of near real-time inventory across all systems and locations

Control what is Available to Promise in each channel, market or region

Process inventory updates at scale

Show accurate inventory before the buy button to reduce overselling and underselling

Order Management that adapts to your business, not the other way around

Event-driven, rule-based architecture is highly adaptable

Adapt, extend, and change UIs and workflows to fit your business strategy using low-code tools

Proven integrations with best-in-class services across the commerce stack

Avoid lock-in by assembling best-in-breed systems

Choose software built by highly focused teams — 100% of Fluent R&D goes to order management

Choose a trusted partner to implement your system without upselling software

By avoiding lock-in with a monolith, you stay nimble as needs change

Lower total cost of ownership, faster time to value

Spend a lot less with a cloud-based modular commerce stack

Choose the right implementation partner for your budget and future needs

Configure and extend with low-code tools so you can go live faster
Want to pay a lot of money to have an opinionated system tell you how to run your fulfillment operations? Give Manhattan a call. If you want to take control with a faster, modular, and more cost effective approach, request a demo of Fluent Order Management today.
This site is registered on
wpml.org
as a development site.