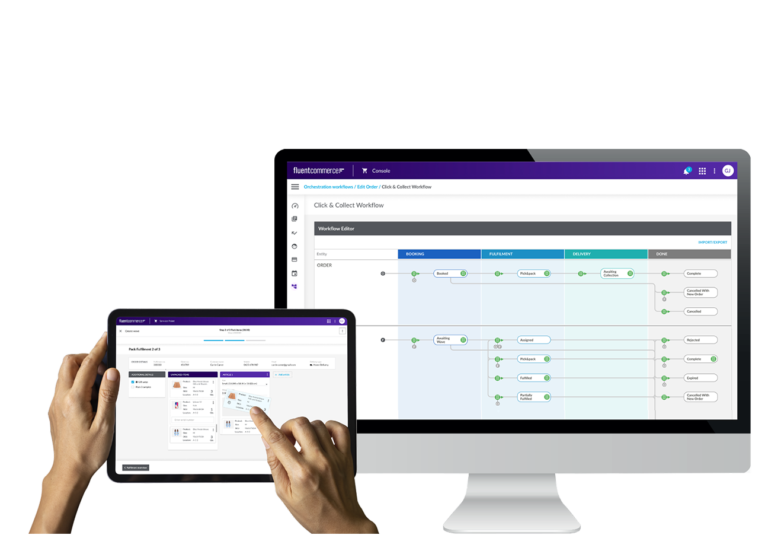 Fluent Order Management vs Kibo Order Management
Accelerate Your Order Management with Fluent Commerce
Kibo Order Management and Fluent Order Management are both cloud-native, scalable, API-first platforms. But there are several differences making Fluent the clear choice over Kibo for your order management needs.
Truly inventory aware

Get an accurate view of near real-time inventory across all systems and locations

Control what is Available to Promise in each channel, market or region

Process inventory updates at scale

Show accurate inventory before the buy button to reduce overselling and underselling

Easy to adapt and extend to fit your business

Low-code tools to configure UIs and adapt common Workflows

Add or remove steps in a process

Add new UI components or user actions

Create components to display third party data

Powerful SDKs (Software Development Kits) with GraphQL and REST APIs for deep extension and integration

Global team, global experience

Time-tested success across borders, continents, languages, industries

Templates to replicate common procedures while adapting to local needs 

Dozens of partners trained to implement Fluent Order Management globally

Solely focused on your order management needs

100% of R&D goes to order management

Built for a best-in-class approach to future-proof your commerce stack
Request a demo to learn why major and growing brands are switching to Fluent. Let's talk about your needs, and how Fluent can help you sell more and keep your customers happier.
This site is registered on
wpml.org
as a development site.