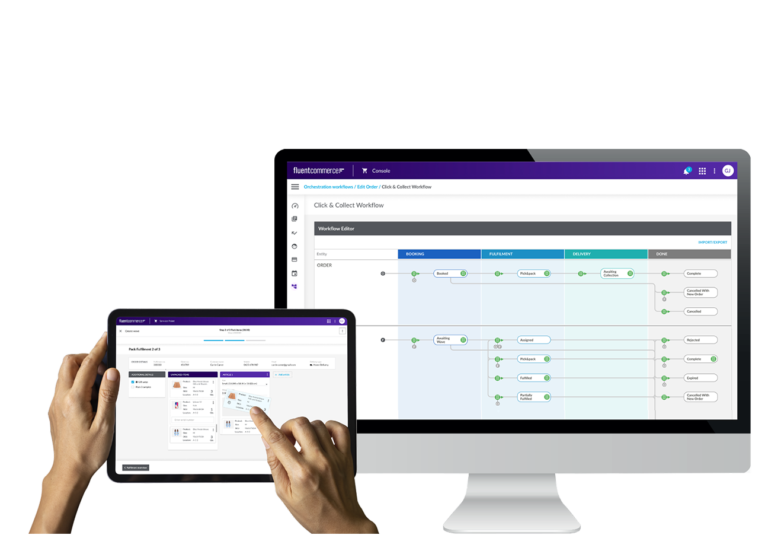 Fluent Order Management vs IBM Order Management
Accelerate Your Order Management with Fluent Commerce
You could pay a lot of money and take a long time to pay specialized engineers to customize software with a decades-old code base. Or you could choose Fluent Order Management and start reducing oversells and undersells within weeks.
Truly inventory aware

Get an accurate view of near real-time inventory across all systems and locations

Control what is Available to Promise in each channel, market or region

Process inventory updates at scale

Show accurate inventory before the buy button to reduce overselling and underselling

Modern software that is more reliable, performant, nimble

Cloud-native software scales smoothly in response to usage volume

Worry-free system maintenance with automatic, zero-downtime upgrades

Responsive in-store and administration interfaces built for modern browsers

Better value for your time and money

Faster time to value: measure deployment in weeks, not years

Less expensive to implement with fairer pricing

Easier to change and maintain after deployment thanks to low-code configuration

Flexible commercials, easy to work with

Solely focused on your order management needs

100% of R&D goes to order management

Built for a best-in-class approach to future-proof your commerce stack
With so much changing so quickly, the safe choice is no longer safe. Request a demo to see how Fluent can help you address the challenges you foresee and the ones yet to surface.
This site is registered on
wpml.org
as a development site.