Sell Anywhere, Fulfill from Anywhere, Return Anywhere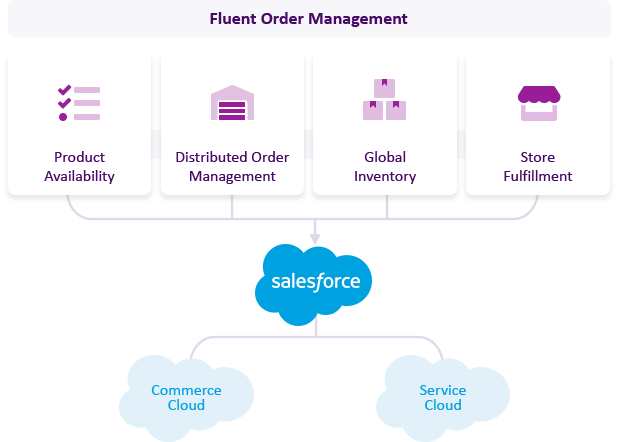 Beyond eCommerce Order Management
Salesforce now offers an Order Management System (OMS), and for some merchants, it will be enough. But if you're a retailer or brand with more complex omnichannel fulfillment needs, you'll need a best-in-class Distributed Order Management system. One that's built for the enterprise. Why?
Because in today's market you need accurate inventory positions across your entire fulfillment network. Not just distribution centers and stores, but your suppliers and third-party shippers as well, so you can reduce overselling and underselling. You also need to provide customers with convenient options, like Click and Collect, Green Delivery options, and expedited delivery – often achieved via Ship from Store.
And you'll want to make sure every order is fulfilled as efficiently and profitably as possible—using advanced sourcing rules—but still keep customer promises and provide a premium customer experience.
In short, you need more than just simple order routing, you need full control over the order management experience. That's where Fluent Order Management (Fluent OMS) comes in.
Key Features
Fluent OMS supports:
Store fulfillment – So you can use store stock to fulfill online orders, reduce inventory carrying costs, and minimize markdowns. Fluent OMS also provides customizable tooling so you can optimize the in-store pick and pack UX.
Fulfillment optimization – Lets you fine-tune your fulfillment logic to maximize the margin on each order. For example, this may include sourcing from the location:

Closest to the customer,
With the lowest sell through rate,
With the most inventory, or
Highest markdowns…. and many more.

Enterprise inventory management – Provides an inventory hub that enables near real-time inventory visibility, virtually inventory segmentation, and inventory updates at scale.
Seamless Integration with Salesforce – Pre-built connectors for Salesforce Commerce Cloud and Salesforce Service Cloud provide seamless integration.
For more information, on how Fluent Order Management for Salesforce can benefit your business, Contact Us today.