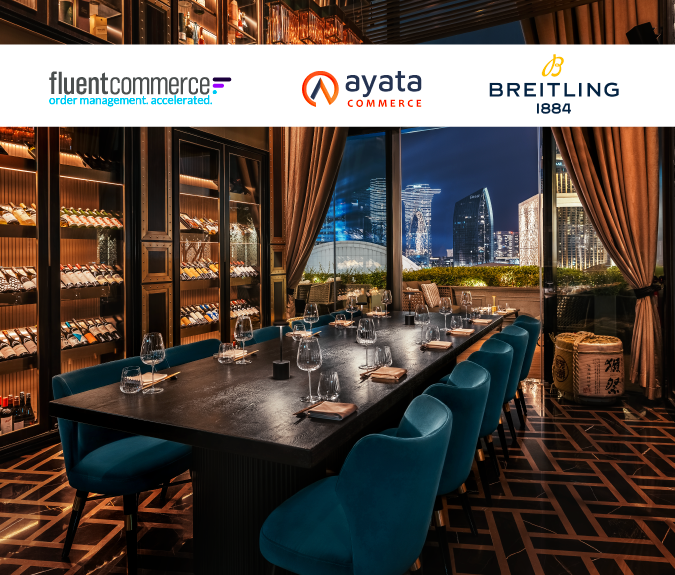 Exclusive Omnichannel Dinner in Dubai with Breitling
Tuesday May 23 | Dubai
Join Breitling – the luxury watchmaker, Fluent Commerce and Ayata Commerce for an exclusive dinner on 29th June in Manchester.
Rajesh Shanmugasundaram, Global Head of Digital Technology, Data & Business Applications at Breitling, will share insights on Breitling's omnichannel strategy and how they elevated customer experience to meet the luxury standard needed for their customers.
After implementing their new strategy, Breitling saw:
Increased sales by 20%: Fluent Order Management helped to increase online sales by 20%
Phase 1 delivered in 4 months: Switzerland was rolled out in 4 months, quickly followed by the U.S. and Canada.
Elevated customer experience: Breitling customers now have more delivery options. Customer experience is consistent and seamless at every point of contact.
As subject matter experts in Order Management and Digital Strategy, we'll happily answer any questions you have around improving your real-time inventory data accuracy.
A perfect opportunity for you to network with like-minded peers and have informal conversations at the beautiful venue, Nazcaa restaurant.
Location: Nazcaa Restaurant, Al Ohood Street, The Address Fountain Views – Level 12 Sheikh Mohammed bin Rashid Blvd – Downtown Dubai
Date: Tuesday 23rd May
Time: from 7.00pm to 10.00pm
"By filling in this form, you agree to be contacted by Ayata Commerce and Fluent Commerce and you confirm you have read Fluent Commerce's Privacy Policy. In addition, your contact details may be shared with Ayata Commerce and Fluent Commerce, to offer you comprehensive business solutions."